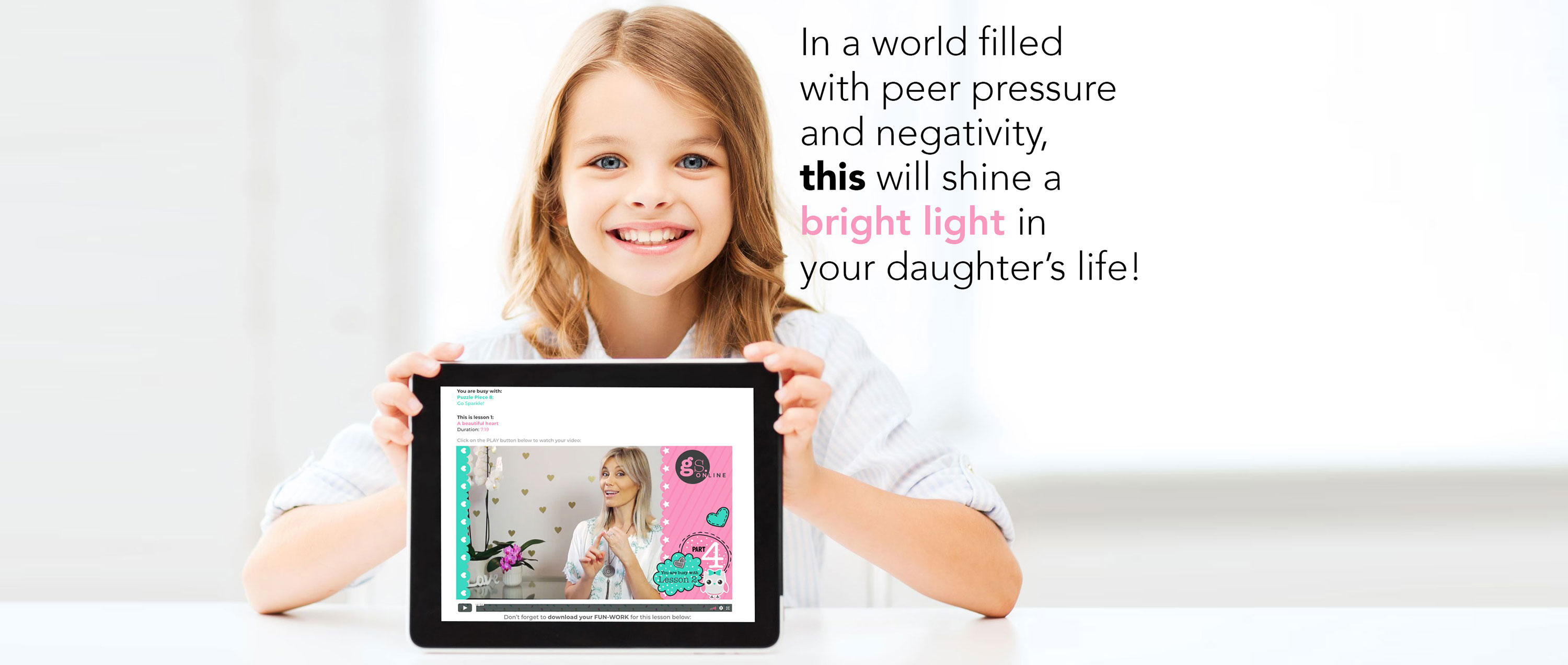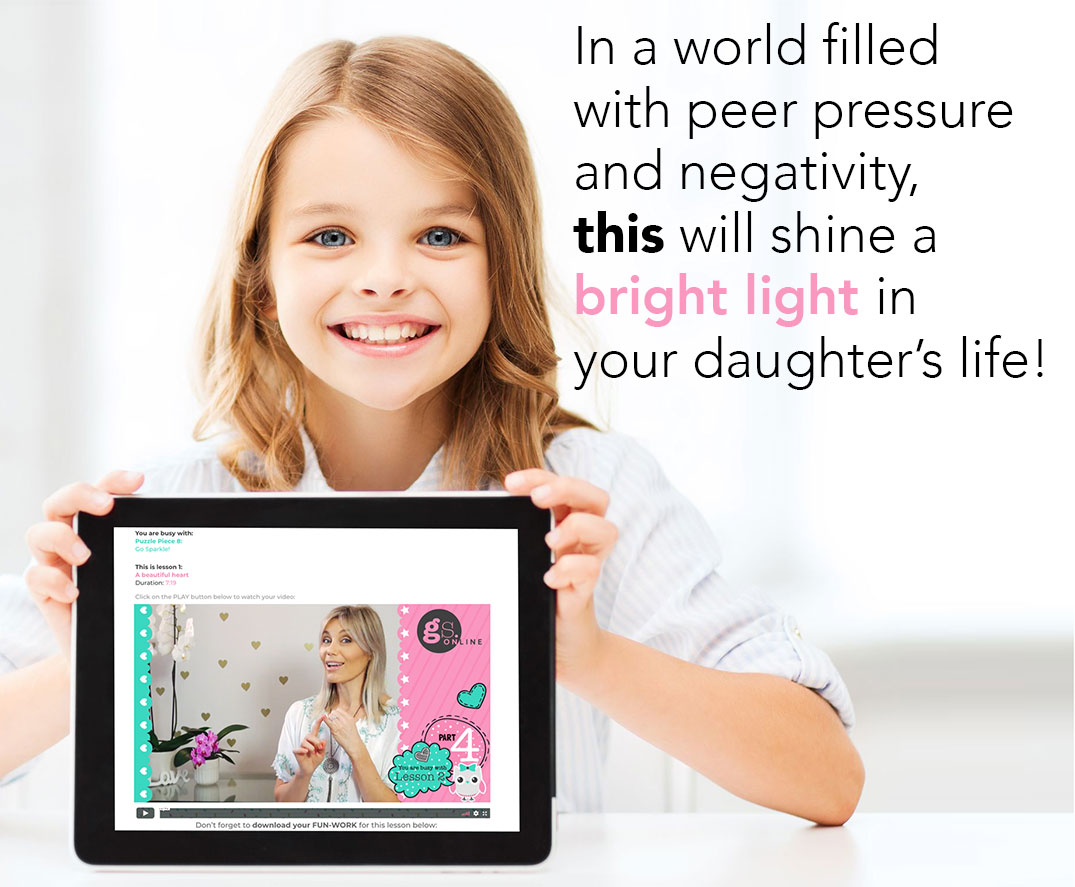 "Girl-School" is a modern-day tool that brings "old-school" values to life in a fun and age-appropriate way.
"Girl-School" will better prepare your daughter for her teenage years (and beyond!).
"Girl-School" wil help your daughter to see that she too has unique inner- and outer beauty qualities and help her to gain confidence in many areas of her life.
I'm Anri, creator of "Girl-School", and I give parents another positive voice in their daughter's life, that can inspire & empower her through a platform that she is susceptible to.
Watch the short video below where I will explain how the "Girl-School" coaching will work:
Topics include:
Embracing your uniqueness
Discover your Inner Beauty
Tools to stop comparing yourself
Age-appropriate personal hygiene
Age appropriate skin-care routine
Table Etiquette
Develop healthy friendships
Tools to help you to stand up for yourself
My body is a gift from God
Create a good first impression
Detailed description
of the modules and lessons are further down the page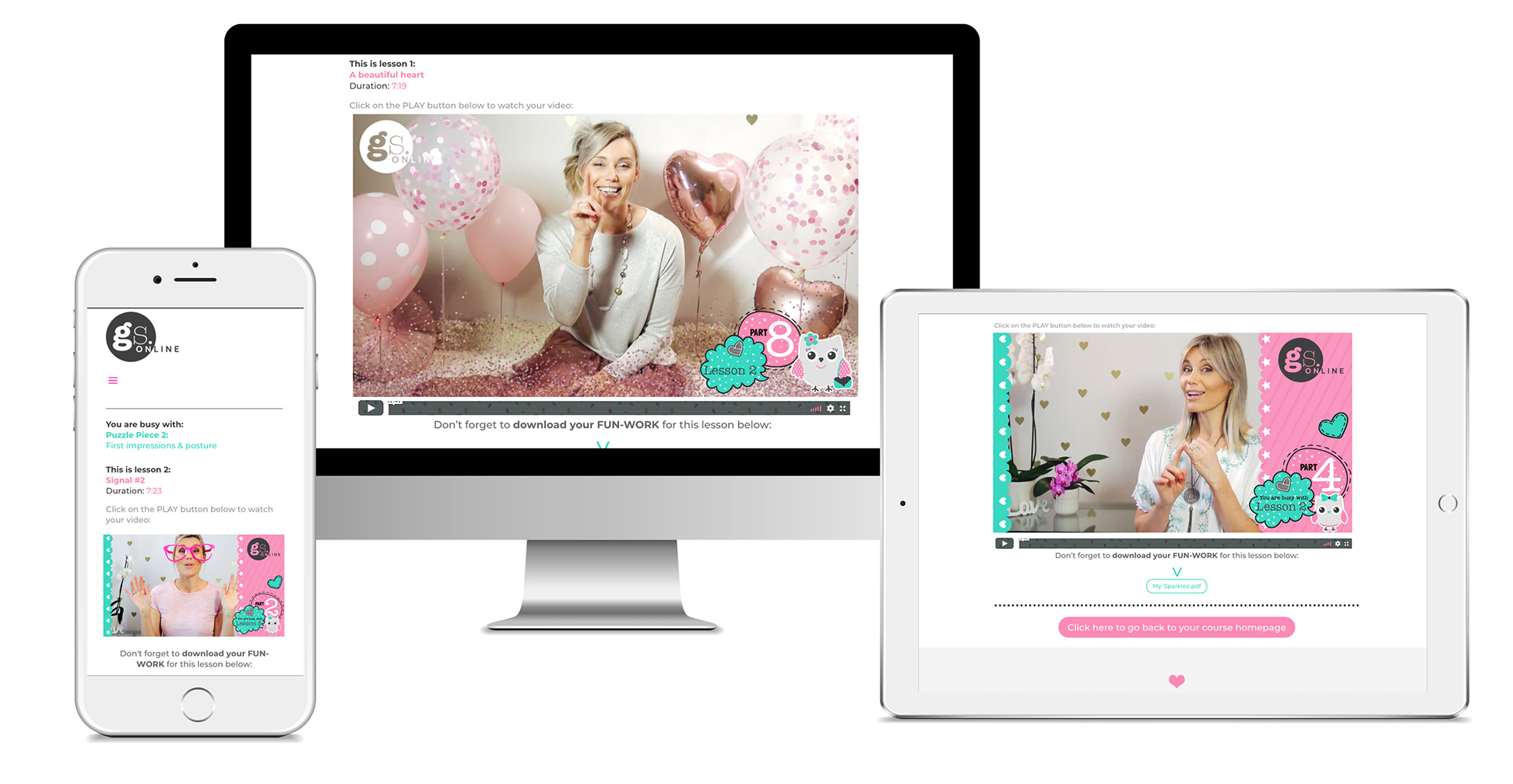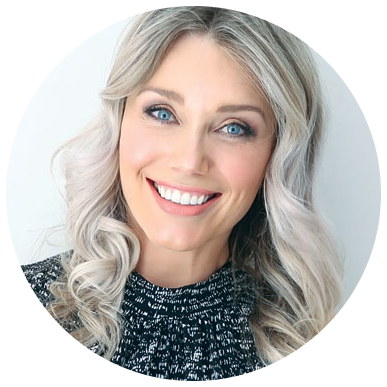 "I am available for your daughter if she has questions along the way. She is also very welcome to email me some of her 'fun-work' that she had to do during the course if she wants me to look at it. (and I would LOVE to tell her how proud I am of her!) I do that with SO MUCH LOVE and I want her to get the most out of her Girl-School course.
I am with her (and you!) every step of the way!" (Anri)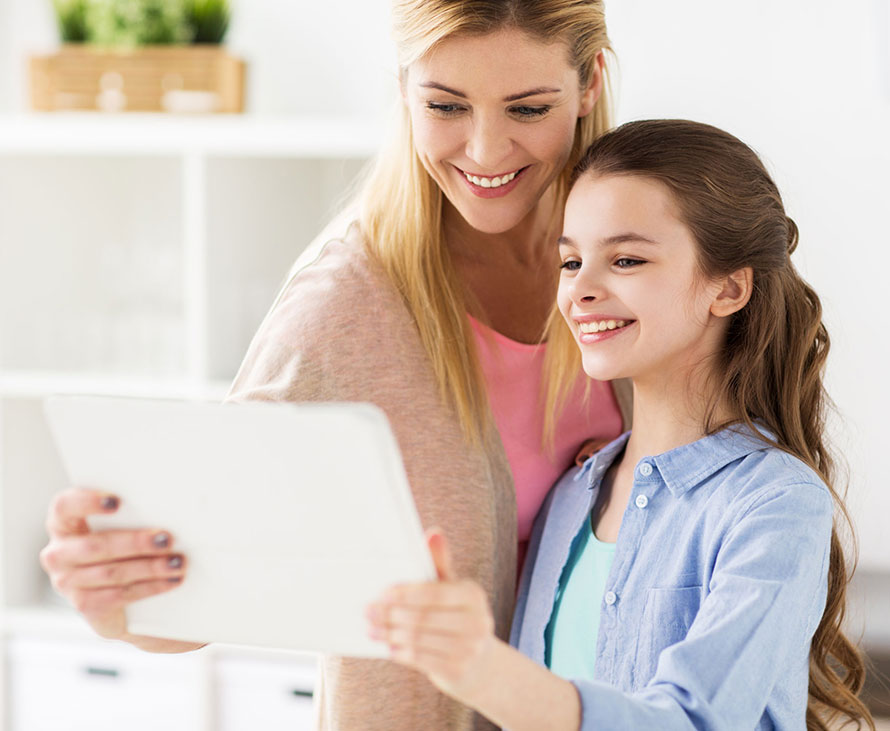 "Girl-School" is a tool for parents that want to give their daughters everything they possibly can to better support her while she is going through all these emotional and physical changes. It is for parents who believe in the power and impact it has when their daughters can hear positive messages from more than one person in her life.
My promise to you is that this investment you'll make in your daughter is an experience that will truly have a positive impact on her development.
Before you can blink, your daughter will be a teenager.
Give her the knowledge and support she needs.
Start her Girl-School journey today for just
$297
FOR A FULL 6-MONTH ACCESS TO THE ALL THE COURSE CONTENT
When you buy the course, what happens next?
It's easy for both parents and students!
Just follow these 4 steps:
1) You log into the Course Homepage (this info will all be e-mailed to you as soon as you buy the course)
2) You print the Parent-Road Map (again, all e-mailed to you when you buy the course). This roadmap shows the modules and lessons in step-by-step form.
3) She clicks on the lesson she wants to watch next and watch her educational video from me. (Duration of lessons vary from 10 – 25 minutes)
4) If there is any "fun-work" (that is our version of "homework") for her to do for that particular lesson you simply click on a button underneath the video to download and print the page.
It really is that easy!
21 Lessons. All packed with positive messages that can ONLY be good for her…. #healthyscreentime
Growing self-esteem
The foundation of everything she will learn is based around "embracing your unique outer-and inner beauty that God gave you". This will build her self-esteem while discovering that she is already beautiful and amazing in her own way!
Increase confidence
While learning new skills that will focus on both her inner – and outer beauty, it will certainly boost her confidence.
Learn to love her uniqueness
A lot of emphasis in the course is on how beautiful it is to be yourself. So she will feel more confident and happy to just 'BE HER'! She will also learn to "Sparkle" her inner beauty to the world!
Positive body image
This course will help to shift her focus to loving and respecting her body rather than criticising and comparing it. She will learn that her body is MUCH more than just a 'shell' that needs to look a certain way, often dictated by unrealistic media standards. This will tremendously help her in her life as a woman if she can learn to love and accept her body and have a positive body image from a young age.
Healthy friendships
Friendship challenges are real, especially at this sensitive age. She will learn how to recognise whether a friendship is healthy for her or not plus valuable tips that will help her to be assertive and stand up for herself.
Age-appropriate personal-care
She will have a better understanding of how to take care of her changing body and understand WHY every girl should pay attention to her personal care. This will also boost her confidence and build self-esteem as she enters her teenage years.
And why an ONLINE platform?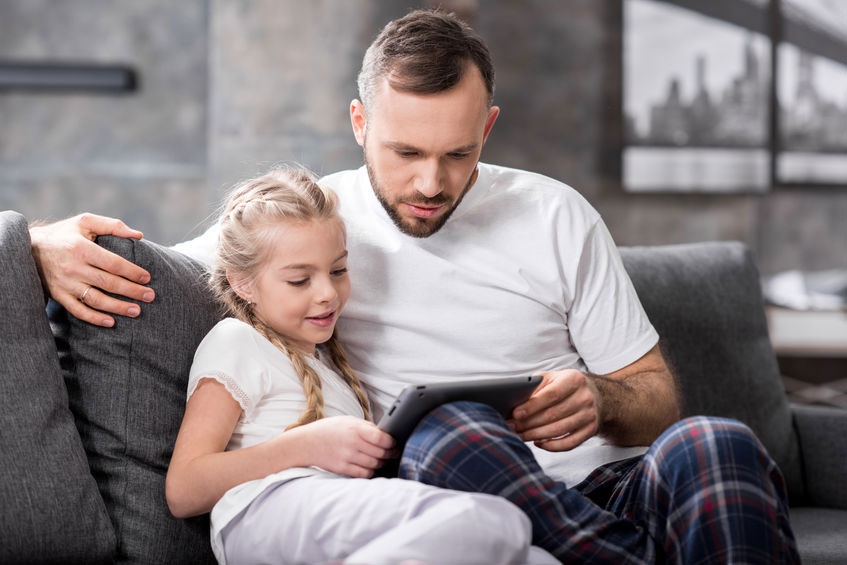 Bond with your daughter
You have the option to watch the lessons with her and continue the conversations around those topics at home, unlike live workshops where you don't really know exactly what she heard in class. This has proven very positive for many parent-daughter relationships and also encourage healthy conversations.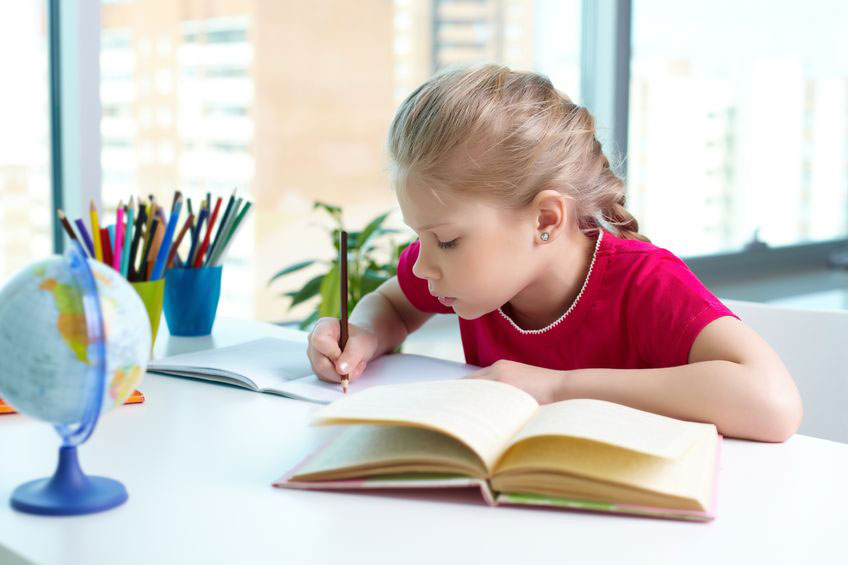 Flexibility
As with so many modern teaching methods available today, Girl-School is an investment that will allow for "anytime., anywhere, education". Fit it into her unique schedule and she can complete it at her own pace. Oh… and one less activity that requires "mom's/dad's-taxi"! 🙂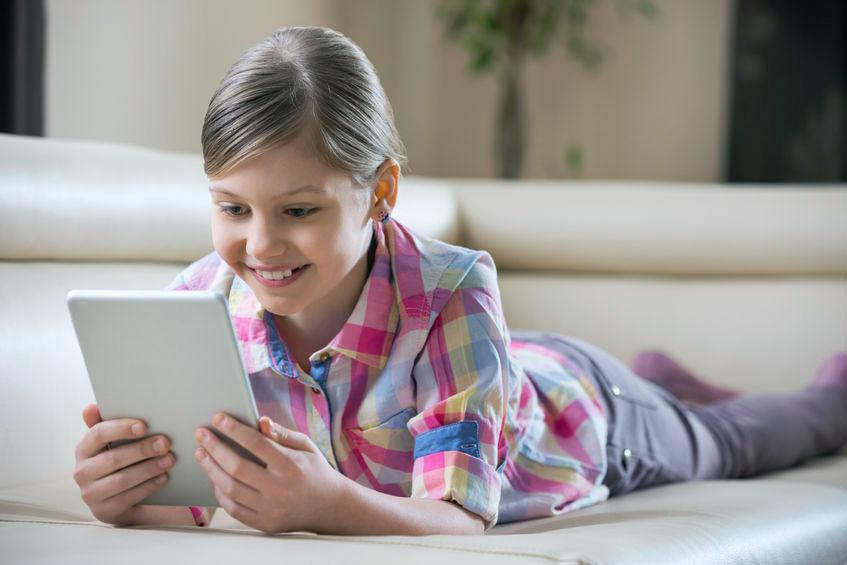 Healthy Screen time
Children like to learn through technology. This is to us, the parents, is often an uncomfortable thought, but for them, (Generation Z, it is what they've known since birth and they RESPOND extremely positive to this way of taking in information. So your excuse of "I don't want my daughter to learn through a 'digital screen', does not weigh up to the benefits that she will miss out on if you let YOUR 'fear of online education' stand in her way.
Thank you for providing a safe platform for my daughter to develop her self confidence and learn valuable new skills. She couldn't wait for each new video lesson! This was truly an investment in her future as this course empowered and inspired her to be a happy teenager in these challenging times that we live in today. Kerryn Soles
"This is a powerful tool that you can let her watch and listen to while you have the peace of mind that I have her best interests at heart."
(Anri van der Linde, Girl-School Creator)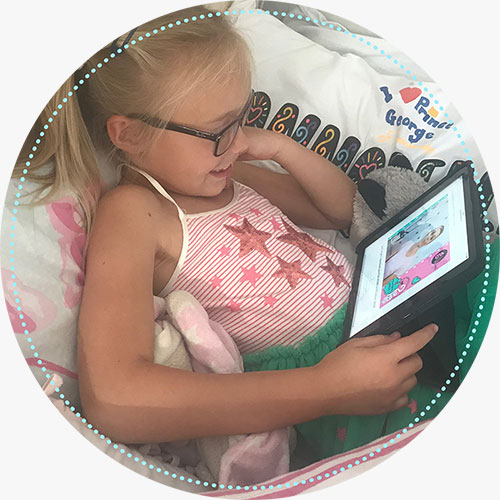 Start her beautiful "Girl-School" journey today
$297
FOR A FULL 6-MONTH ACCESS TO THE ALL THE COURSE CONTENT
Below is a sneak-peak video of what the videos inside the Girl-School course  look like.  ENJOY! 🙂
"Being the owner and principal of one of the top self-development courses and finishing schools in Johannesburg, I've had the opportunity to work closely with hundreds of pre-teen and teen girls since 2013 during my live workshops and courses. I've been paying close attention to their stories, their concerns, their struggles and their challenges. Our daughters are under so much pressure to look and be a certain way and to be accepted by their peers, and I've seen how our young girls start to loose a lot of their self-worth, happiness and uniqueness in this process.
I decided to make a change.
And THAT is why I created this online program for our girls.
To educate any pre-teen girl without time or location standing in her way.
To give you, the parent, another "positive voice" that can inspire & empower your daughter on a platform that she is susceptible to and familiar with. 
WHY CHOOSE ME AS HER TEACHER?
I have the ability to explain and package content in a fun and interesting way.
I did a similar course as a pre-teen girl myself and I know how much value it brought to my own life.
I have presented MANY workshops for girls and I know what they want to and should hear and learn more about.
I have a gift to package content in a practical and creative way in order to keep my students interested.
I have a step-by-step teaching style making it easier for my students to implement their new knowledge.
I want your daughter to benefit from and enjoy this experience and that is why I am there to support her (and you the parent) every step of the way!
I LOVE what I do and to use my gifts and passions that God gave me to uplift and empower others!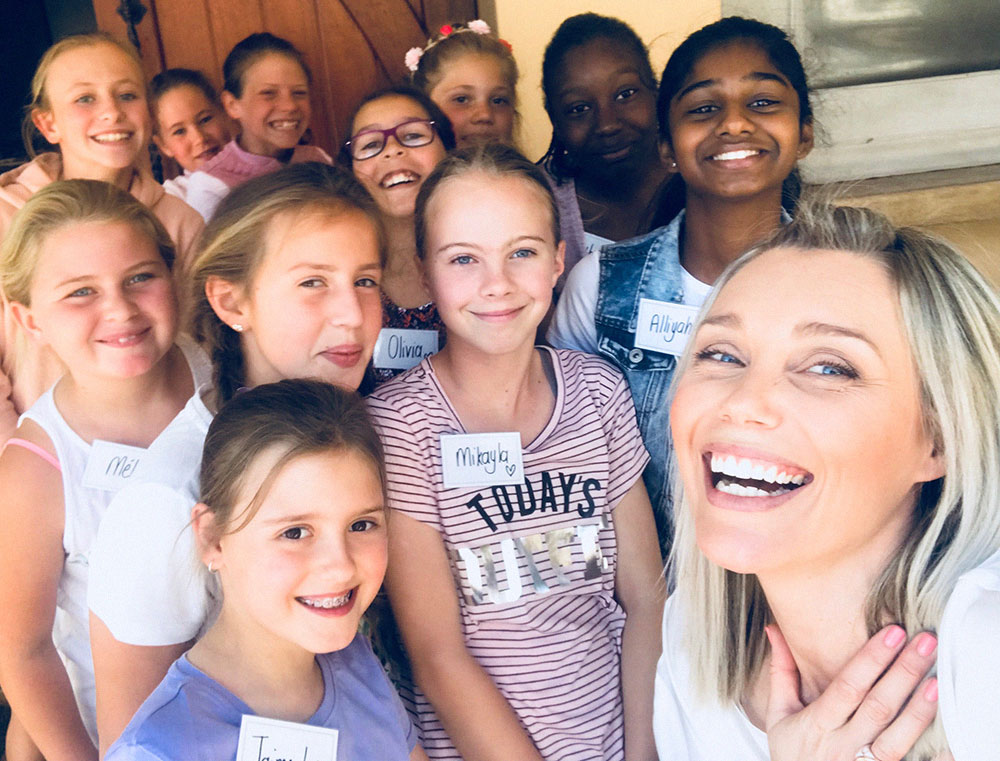 I would definitely recommend this course to all girls. My daughter loves teacher Anri and says that she wants to sparkle just like her. Thank you Anri for being such a positive inspiration to my little girl and for planting important 'seeds' in her heart. I believe its going to grow into one of the biggest trees ever… Judy Young
Frequently Asked Questions
Click on the + sign next to the question to read the answer:
Will my daughter benefit from doing an online course?
Although I can't speak for ALL online courses, I can confidently say that THIS online course will benefit your daughter yes! Each lesson has a clear and important message that she will benefit from. It will be an average of plus /minus 10 minutes a day well spent towards her personal growth and development.
Will my daughter be able to follow along?
The course content is delivered in a structured and organised way making it very easy to follow along and to know exactly what should happen next. The course is clearly divided into 8 modules (or as we call them in the course "Puzzle Pieces") and listed underneath each module are the lessons. Parents will also receive a 'Parent-Roadmap' that will clearly list all the lessons, with a space to check lessons off when completed,  ensuring that parents and students never feel lost or overwhelmed. I am with her every 'cyber-step' of the way! The lessons are delivered in bite-size length videos, meaning they are short but meaningful and she also has the option to pause and rewind anytime she needs to.
Will my daughter still have fun doing it alone, as a-pose to in a group?
Groups are awesome and have many benefits yes, but this online platform was specifically created so that location, time and other commitments don't stand in the way of her being able to do and benefit from what Girl-School has to offer. That is always the number one 'obstacle' when I present my live workshops – a girl that really wants to do the course but she has other commitments on the course days or traveling / location was an issue. I am sure that she has plenty of other opportunities to be in a social group, be it at school or at other extramural activities, so the benefits of actually gaining this knowledge and growing through this course as a person outweighs the issue of not doing it in a group in my honest opinion. PLUS – now mom or dad is there for her to discuss the content with, which means bonding time and healthy conversations in the home!
What if my daughter has questions?
After the hundreds of hours that I've taught live workshops to this age group, I have a very good idea of what questions are popular. Therefore I worked very hard to answer all those questions already inside of the lessons. But should she have other questions she is always very welcome to email me and I will gladly help and support the best I can!  Again, it will be so healthy for your parent-daughter relationship too if she can come to you with her questions. Not only will it spark interesting conversations, but you will also strengthen the bond and trust between you and your daughter when she can discuss her questions with you.
Which technology will we need?
As long as you have an internet connection, you can watch the course on any device. (Smartphone, laptop, desktop computer…) Just use the link and your unique log-in details that will be sent to you after you enrol, and she will be able to continue and watch her lessons. She will also need sound, so either using the speakers from the device or headphones if necessary. If you have any technical issues we will be happy to assist.
Is the content age-appropriate and safe?
Absolutely! All the content is specifically aimed at this age group and focused on teaching her age-appropriate, healthy habits and tools that she will need to develop now in order to support her during her teenage years. I constantly ask God to guide me while I create content and teach, and I am confident that with His guidance, I developed a course that will have a lasting, positive effect on any girl in this age group.
How long is the course?
There are 21 lessons, so the minimum time that the course can be completed in is 21 days since I do not recommend that students do more than one lesson per day) The benefit of an online course though is that HER SCHEDULE and circumstances are in control, as well as HER unique ability to process the information. That means that she can take longer than 21 days if she feels she needs more time in-between lessons and she can even do only 1 lesson per week since she will have a full 6 month access to her course.
What happens after I've paid for the course?
After successful payment of the course, you will receive an e-mail with your unique log in details and the link where you can log in to the course. Parents will also receive a welcome e-mail and video from Anri explaining exactly what to expect and what to do next, to ensure that your daughter gets the most out of her Girl-School experience.
WHAT WILL MY DAUGHTER LEARN?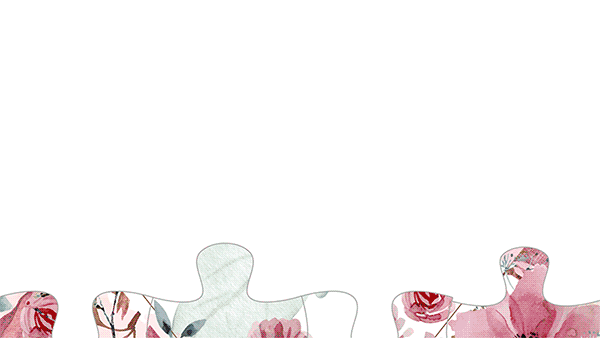 I will guide her through the 8 modules of her course. We will call the modules  "puzzle pieces" since she will receive a new puzzle piece after completing each module. The 8-piece puzzle that she will complete at the end will say this: "I am beautiful inside and out."

Welcome to Girl-School!
 

LESSON 1:
"Meet teacher Anri and what to expect" This lesson will make her feel right at home! She will learn exactly what Girl-School is (and what it's not), how it will work and what she needs to do to enjoy and get the most out of this exciting course. Fun-Work pages to download for this lesson include:
My Super-Duper-Magical-Booster-Ingredient-For-Life list.pdf

My No-Entry list.pdf
 LESSON 2:
"A lady always leaves beauty behind" She will be introduced to 'the Heart of Girl-School' which will teach her that "Real Beauty" is the unique OUTER and INNER qualities that makes you YOU. She will also learn what it means to be "a lady" and that "A lady always leaves beauty behind" (hint… it has to do with inner beauty). Fun-Work pages to download for this lesson include:
The Heart of Girl-School.pdf

Today I left beauty behind when I… .pdf

Mirror Card 1.pdf

First impressions and posture
 

LESSON 1:
"Signal #1" Why is it important to make a good first impression? She'll learn about the signals (non-verbal) she's sending out to people because others will TREAT you according to that first impression you create. Lesson 1 will focus on signal #1: Your appearance Fun-Work pages to download for this lesson include:
 LESSON 2:
"Signal #2" We continue with the non-verbal signals that we send out to others and this time we will focus on: Body Language and Facial Expressions. We'll also add our first word to her "Super-Duper-Magical-Booster-Ingredient-For-Life" list which is "Eye Contact". She'll learn why eye-contact is important and will be encouraged to start practising that. Fun-Work pages to download for this lesson include:
Signal #2 Body Language and Facial Expressions.pdf
 LESSON 3:
"Signal #3" We continue with the non-verbal signals that we send out to others and this time we will focus on our Actions and how we treat other people. We'll add another two words to her "Super-Duper-Magical-Booster-Ingredient-For-Life" list and will this time focus on "Respect" and "Consideration" Fun-Work pages to download for this lesson include:
 LESSON 4:
"Signal #4" In this lesson we focus on our words and specifically how our words have a big impact on what impression we create. We will add our first words to her "No-Entry" list: "Gossip" & "Swearing". Her "Fun-work" for this lesson will encourage a specific conversation with mom or dad – great for bonding-time too!
 LESSON 5:
"Standing tall" Today I'll teach her what "good posture" means, but also WHY it is important to "stand and sit tall" – what are the benefits for her? I will show her, step-by-step, how to sit and stand with good posture and also give her some easy stretches that she can do to ensure her "posture muscles" stay healthy and strong. Fun-Work pages to download for this lesson include:
My circle of trust.pdf

Mirror Card 2.pdf

The Unique Me
 

LESSON 1:
"Why being ME is awesome and comparing is not" This is the module of the course where we focus on just being yourself and that, as long as you treat yourself and others with respect and love, being yourself is the prettiest thing you can be! We will also talk about why wearing a mask is exhausting and that "being REAL" will lead to much more happiness. She'll also learn that "In order for you to BE yourself you need to know yourself." So for Fun work she will complete 'the Real ME Quiz' (which is also a fun game that she can play with the rest of the family afterwards).  Fun-Work pages to download for this lesson include:
 LESSON 2:
"Comparison Shield #1: An attitude of Gratitude" Doesn't matter how shy or confident you are, "Mr.-Ugly-Comparison" will always try to make you feel less than others. But Girl-School girls will be ready for him! I will teach her two skills (called her 'shields') that she can use to protect herself from"Mr.-Ugly-Comparison". The first shield will focus on having an attitude of gratitude and how people that focus on what they can be grateful for everyday, rather than on where they fall short or what they wish they had, are far happier in life! We want to "train her brain" to have this super-powerful attitude in life. Fun-Work pages to download for this lesson include:
 LESSON 3
"Comparison Shield #2: Proud of me!" There won't always be other people around to acknowledge your achievements but that doesn't make it any less of an achievement! You can tell yourself! Big and small things – tell yourself when you did something well, a good deed, or anything else that you feel proud of. When she does that, she will grow her self-esteem and self-worth and THAT scares "Mr.-Ugly-Comparison"! So our 2nd shield is called: "Proud of me" and will teach her to start seeing and acknowledging her own achievements – big and small. Fun-Work pages to download for this lesson include:
Proud of me.pdf

Mirror Card 3.pdf

Have fun with 'Personal-Care'
 

LESSON 1:
"My body is starting to change, now what?" In this module I will explain why EVERY girl must pay attention to her personal-care, especially now that her body will start to go through changes. It doesn't matter whether you are a "girly-girl", a "tomboy" or anywhere in-between, EVERY girl's body WILL go through changes and therefore EVERY girl should pay attention to personal hygiene and personal-care. I will explain the BENEFITS to her, so that she does this because she wants to, rather than to just "please mom". That way she is much more likely to cultivate personal-care as a habit for life. I also teach her that every girl goes through puberty in her own unique way and at her own pace – so again – don't compare! This lesson will also focus on personal hygiene guidelines. She will get a very handy "personal hygiene checklist" which will help her to pack everything she will need, in terms of personal hygiene, when she is away from home. (eg. going on a school camp) Fun-Work pages to download for this lesson include:
My personal hygiene checklist.pdf
 LESSON 2:
"I only have ONE skin" I truly believe that one of the most important personal-care skills that girls should start to learn between the ages of 8 – 12 is to care for the ONE skin that they have. So in this lesson, I teach her a step-by-step, age-appropriate skincare routine, that will not overwhelm her but will be enough to inspire and encourage her to start cultivating this important self-care habit for life. Fun-Work pages to download for this lesson include:
My basic skincare routine.pdf

Mirror card 4.pdf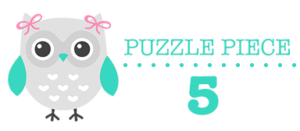 Etiquette
 

LESSON 1:
"Table Etiquette" "What does 'etiquette' mean and why am I learning about it at Girl-School?" Well,  I will answer that question for her and also show her how etiquette fits into the Girl-School puzzle-message that she is busy 'building'  of  "I am beautiful inside and out." Table etiquette is one of the first and easiest ways to see if someone has good manners or not. It also doesn't matter whether you're dining with the Queen, or just with your family at home, good table manners are timeless and you can ALWAYS apply them as they relate to your specific situation that you're finding yourself in. She will get a "Table-manners for my home" sheet that will encourage the whole family to practice with her!  Etiquette, or good manners, is a beautiful way to show respect and consideration for others. And a "fancy" 6 course dinner table setting will never be intimidating again to a Girl-School-girl as she will know exactly what to do. Fun-Work pages to download for this lesson include:
Table Manners for our home.pdf

Mirror Card 5.pdf

Healthy, happy friendships
 

LESSON 1:
"The five friends of friendship" Friendships are a BIG deal, especially at their age and throughout their teen years. Therefore it's important to understand what a 'healthy friendship' means. I'll  talk about the "5 friends of friendship" – no friendship can go without these! They are:
Boundaries

Not everyone is going to like me, and that's okay. (So just be and stay yourself)

Protecting your heart

Speaking Up (Assertiveness)

Trusting your gut (If it feels wrong / unsafe you must act!)
In this lesson we'll focus on numbers 1 – 3. Fun-Work pages to download for this lesson include:
 LESSON 2:
"Listen to the wise girl inside of you" Today we'll continue with the "Five friends of friendship" and focus on "Speaking up" and "Trusting your gut". If something feels wrong, or unsafe, 'trust your gut' and speak up or get out! It is there to protect you. I will also give her some very valuable tips to make standing up for herself (Assertiveness) easier and more effective. She will get some role-play cards as well that she can use to practice her new skills with a family member or friend, since I will be encouraging her to practice OUT LOUD. When doing that, she will have more confidence in the 'real life' situations. Fun-Work pages to download for this lesson include:
Assertive role-play cards.pdf
 LESSON 3:
"Qualities of a good friend" It is important to know when a friendship is not healthy for you anymore. Therefore we will look at the qualities of a good, and not so good, friendship. You always have a choice about who your true friends are. Become aware of the qualities that you want and look for in a friend since you DESERVE to be treated with respect, love and dignity. She will also receive some helpful tools today that she can use to help her to assess whether a friendship is still healthy for her or not. Fun-Work pages to download for this lesson include:
My friendship-meter-circle.pdf

Friendship Questions.pdf
 LESSON 4:
"The power of Words" The words that come out of your mouth have the power to make DEEP cuts in someone's heart if you say hurtful things to them. The opposite is also true, your words can have a POSITIVE impact on someone's life. Girl-School girls know this, since they also want to be beautiful on the inside. They want to choose their words carefully. Only YOU can control what comes out of your mouth. Spread 'beauty' with your words. Fun-Work pages to download for this lesson include:

My body is a gift from God
 

LESSON 1:
"Marvellously made" Our bodies are SO MUCH more than just 'something that needs to look good in clothes or in a swimming costume"! I will share my own struggles as a model to live with the pressure to always loose weight and share the tools and mindsets that helped me to keep my relationship with my body positive. We need to CHOOSE to see our beauty. The 'world' will try very hard to make you feel that your body is not beautiful enough, that is why we need to start seeing our bodies as the GIFT that it is from God and work hard to develop and maintain a positive body image. Fun-Work pages to download for this lesson include:
This makes my body unique and beautiful.pdf

I choose to see my beauty.pdf
 LESSON 2:
"The big 5" One of the powerful ways we can teach our daughters to have a positive and healthy relationship with their bodies, is to teach them to focus on 'being healthy rather on just being skinny". I created the "Big 5 of a healthy lifestyle" which is an excellent start to motivate her to keep her body (and mind) healthy. They are:
Fuel
Move
Rest
Smile
RPL (Respect, Protect, Love for our bodies)
and we spend time talking about each of the five and make it really practical! Fun-Work pages to download for this lesson include:
The big 5 of a healthy lifestyle.pdf

Mirror Card 7.pdf

Go Sparkle!
 

LESSON 1:
"A beautiful heart" In this module we will look back at our "Heart of Girl-School" that says: "REAL BEAUTY IS the unique OUTER and INNER qualities that makes you YOU. You have to be SMART in your quest for beauty. Don't end up MISSING your OWN natural gorgeousness because you're so busy trying to look, or be, like someone you're not. Use your unique Inner Beauty to SPARKLE your light in this world. See the small opportunities every day to shine! Fun-Work pages to download for this lesson include:
 LESSON 2:
"From my heart to yours" After this incredible journey that we've been on together, it is time for me to say goodbye. I have a special good-bye message for her in this lesson that will highlight and remind her of some of the key things that she has learnt during her Girl-School journey. We will also look at all the words we added to her "Super-duper-magical-booster-ingredient-for-life list" as well as her "No-Entry list" over the duration of her course. She also now completed all her modules, meaning she completed her 8-piece puzzle, and that is truly my wish for her – that she will always remember that she is beautiful inside and out, just like her completed puzzle says, and that she is special, strong and loved. Fun-Work pages to download for this lesson include:
Let your daughter start this beautiful journey of self-discovery, self-development and self-confidence today.
$297
FOR A FULL 6-MONTH ACCESS TO THE ALL THE COURSE CONTENT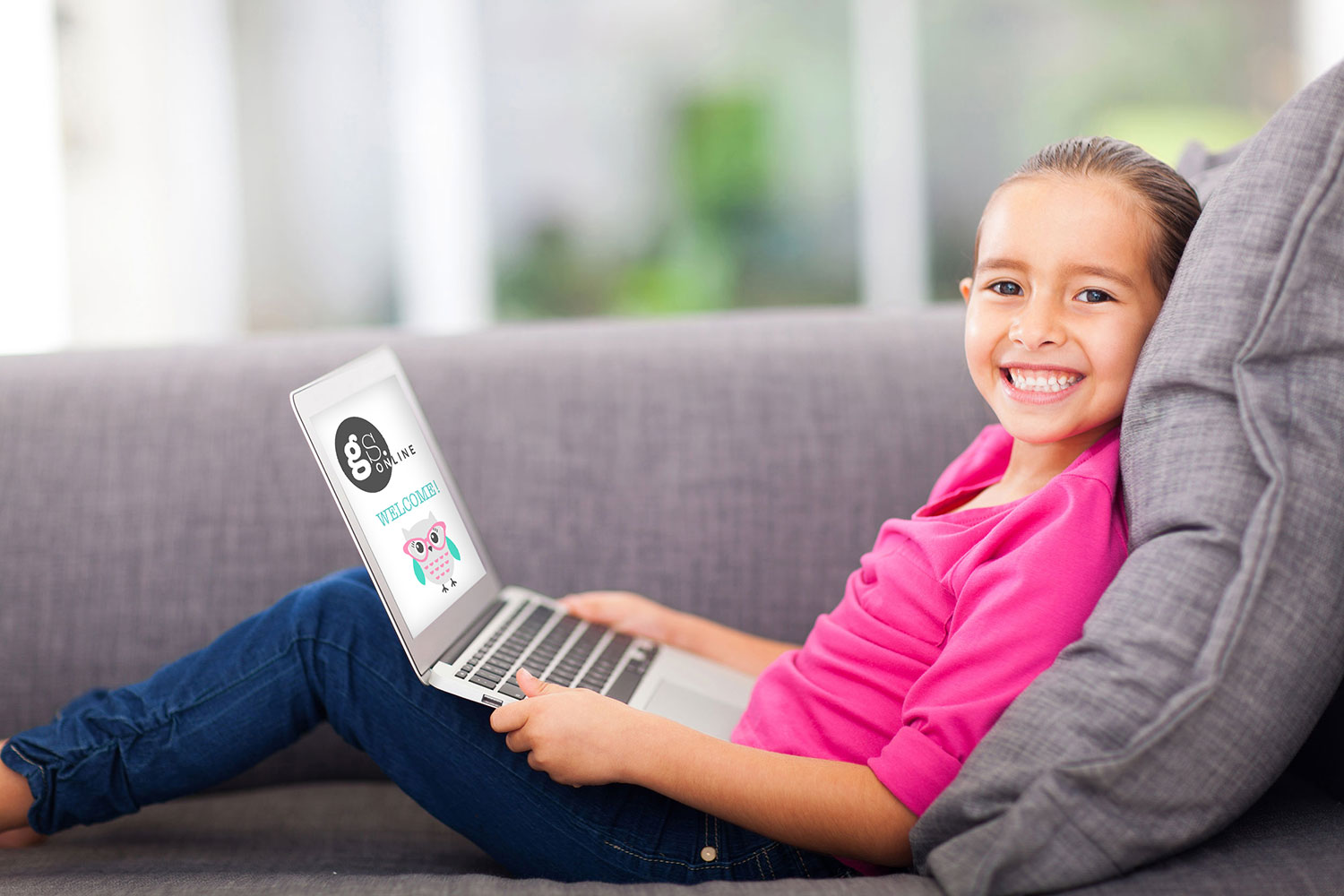 Hear it from
the girls
themselves…
Here are some thank you notes from
Girl-School students
to "Teacher Anri"…
"Thank you for helping us to learn stuff we don't learn at school. We will soon be proper young ladies and we'll have you to thank for it. I will miss watching and seeing you every week!" Boniswa
"Thank you teacher Anri! If it wasn't for you I wouldn't know how beautiful I really am. I LOVE Girl-School!" Andrea
"If teachers were flowers, I'd pick you!  Thank you for being a great teacher and for helping me to better understand myself." Danielle
"Thank you so much for everything you taught me, I really appreciate it and will always use what I've learnt while growing up." Nawaal
"
My Girl-School course is to help and support YOU, the parent, to raise a daughter that will treat herself, and others, with respect and love, and to help her to embrace the incredible INNER- and OUTER beauty that God so lovingly gave her.
💗 
I'm PASSIONATE about helping the girls to discover how 
⭐
AMAZINGLY WONDERFUL
⭐
 they are when they are simply BEING THEMSELVES!"
. Anri van der Linde (Girl-School Founder)
ANY QUESTIONS?
Say Hello!
Please send your questions via the form and we'll be happy to answer them:
Girl-School – Anytime, Anywhere Online course is a division of 'YOU WITH CONFIDENCE'
Connect with us here:
Follow us on Facebook & Instagram